About us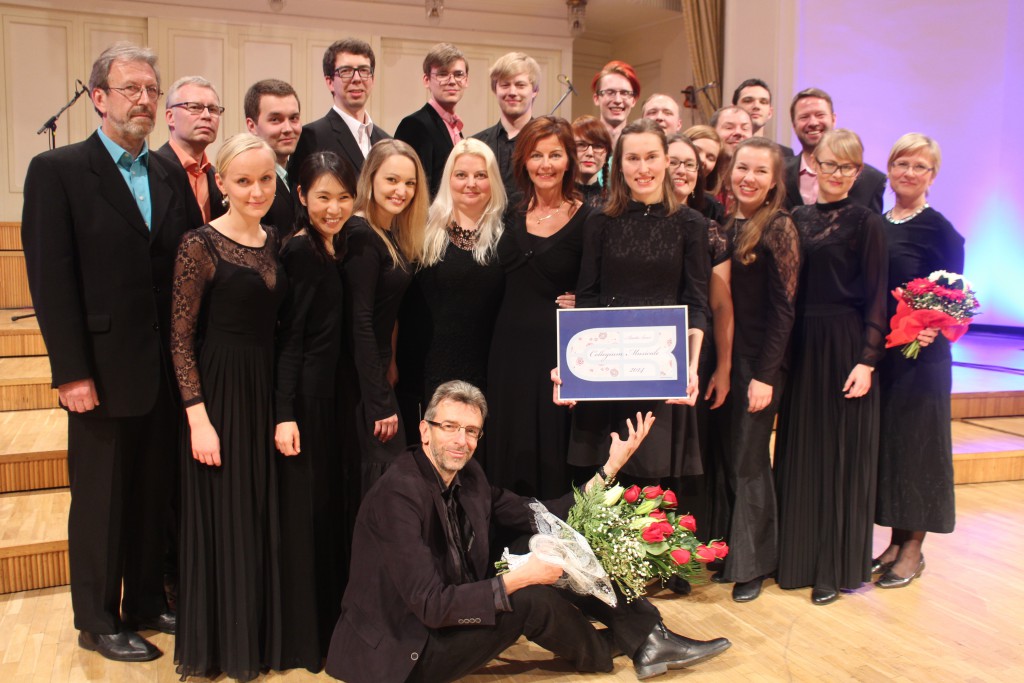 Collegium Musicale with Estonian composer Erkki-Sven Tüür. Photo: Kristel Üksvärav
Estonian chamber choir Collegium Musicale was founded by conductor Endrik Üksvärav in October 2010. The repertoire extends from renaissance to contemporary music. The special place in the repertoire belongs to the Estonian composers: Arvo Pärt, Veljo Tormis, Erkki-Sven Tüür, Helena Tulve, Tõnu Kõrvits, Mirjam Tally, Pärt Uusberg etc. The aim is to offer high level musical emotions and be the ambassadors of Estonian music.
The choir has co-operated with different orchestras and ensembles – Helsinki Baroque Orchestra, Tallinn Chamber Orchestra, Rascher Saxophone Quartet,  Tallinn Baroque Orchestra, NFM Leopoldinum Chamber Orchestra (Poland), Jerusalem Symphony Orchestra, baroque orchestra Barrocade (Israel), Eesti Sinfonietta, Corelli Consort, Klaaspärlimäng Sinfonietta, string quartet Prezioso etc and conductors including Tõnu Kaljuste, Andres Mustonen, Kaspars Putninš (LT), Aapo Häkkinen (FIN), Simon Carrington (UK), Jos van Veldhoven (Holland), Gianluca Marciano (Italy), Darrel Ang (Singapur/FRA), Mihhail Gerts etc.
Collegium Musicale has had concert tours in Italy (Rome, Arezzo, Gorizia etc), France, Russia, Finland, Germany, Poland, Czech, Malta and Japan. In Japan Estonian composers Erkki-Sven Tüür and Arvo Pärt participated in the choir's concert in Tokyo. 2017 the choir had concert tours in six countries: Israel (10 concerts), Holland, Poland, Germany, Russia, Finland (2 x).
In October 2017 Collegium Musicale won EBU/Euroradio International competition "Let the Peoples Sing" – adults category and the whole competition Grand Prix with Silver Rose Bowl.
Year 2018 started with the concerts in Al Bustan International Festival (Beirut, Leabanon) and brought the choir also to Russia, Latvia and Poland – festival Wratislavia Cantans.
Estonian Choral Association has announced Collegium Musicale three times as the Choir of the Year – 2011, 2014 and 2017. There is no ohter Estonian choir who had got that title so many times. The CD "Peegel peeglis" has got the prize "Choral CD of the Year 2012" in Estonia.
In 2018 Collegium Musicale and conductor Endrik Üksvärav won the Music Award 2018 of Estonian Cultural Endowment – for the brilliant promotion of Estonian choral music and for a dedicated and high-level presentation both in Estonia and abroad.
Collegium Musicale is the member of Estonian Chamber Choir´s Association and Estonian Music Council.
The highlights of 2020:
March 8, Päikeselaul/Song of the Sun – music of Tõnu Kõrvits (Estonia) and O.Gjeilo (Norway)
June 14, Arvo Pärt "Adam's lament"
August 8, World premier of Erkki-Sven Tüür "Canticum Canticorum Caritatis"
August 22, World premier of Maria Faust "Maarja Mass"
September 4-6, Arvo Pärt Days, concerts "Summa" with Rascher Saxophone Quartet
October 3, World premier of Timo Steiner "Song of Spiritual Courage"
November 7-8, During the midnight: Pärt and Pärnoja. World premier of Erki Pärnoja "Anima Mea"
CD-s:
"Peegel peeglis" (2012)
Music by Arvo Pärt & Pärt Uusberg
Live-recording of the concert in Tallinn in Niguliste church.
"Tallinn Mass" (2014)
Music by Roxanna Panufnik (UK)
Released by Warner Classics
2 CD "Unustatud rahvad" / "Forgotten peoples" (2014)
Music by Veljo Tormis
Live-recording of the concert in Tallinn in Mustpeade maja
Pärt Uusberg. Choral Works. (2018)
Music by Pärt Uusberg
Released by Toccata Classics
 Collegium Musicale – Sounds good!